Trucksbrands.com – The 2024 Jeep Gladiator is an impressive pickup truck that combines rugged off-road capabilities with the versatility of a midsize truck. With its iconic Jeep styling and robust construction, the Gladiator stands out on both city streets and challenging terrains.
Underneath its bold exterior, the 2024 Gladiator boasts a powerful engine for any adventure. Whether you choose the standard 3.6-liter V6 engine or opt for the available 3.0-liter EcoDiesel V6, you'll experience smooth acceleration and confident towing capabilities.
One of the standout features of the 2024 Jeep Gladiator is its removable roof and doors. This feature allowing you to embrace open-air freedom like no other truck on the market.
Paired with a spacious interior that offers comfortable seating and modern technology, the Gladiator provides a comfortable and connected driving experience. With its legendary off-road prowess and versatile design, the 2024 Jeep Gladiator is ready to tackle your toughest adventures while turning heads along the way.
Related:
Bed Liner Jeep Gladiator: Drop-In vs Spray-In
Jeep Brute for Sale Craigslist Expert Guide
2024 Jeep Gladiator: A Closer Look at the Features
When it comes to the 2024 Jeep Gladiator, there's no denying that this truck offers an impressive array of features. From its rugged exterior design to its versatile interior, the Gladiator is built to handle any adventure you throw its way. Let's take a closer look at what sets this vehicle apart from the rest.
Powerful Engine Options
The 2024 Jeep Gladiator offers two engine options that deliver impressive performance. The standard engine is a 3.6-liter V6, which generates 285 horsepower and 260 lb-ft of torque.
If you crave even more power, there's an available 3.0-liter EcoDiesel V6 that churns out 260 horsepower and an impressive 442 lb-ft of torque. No matter which engine you choose, you can expect robust acceleration and ample towing capabilities.
Excellence Off-Road Capability
One of the standout features of the 2024 Jeep Gladiator is its exceptional off-road capability. With four-wheel drive and a high ground clearance, this truck can tackle even the toughest terrains with ease.
Whether you're traversing rocky trails or navigating through muddy paths, the Gladiator's advanced off-road systems like Rock-Trac® 4×4 and Tru-Lok® electronic locking differentials ensure maximum traction and control.
Open-Air Experience
The Jeep brand is synonymous with open-air freedom, and the 2024 Gladiator takes that experience to new heights. With its removable roof panels and fold-down windshield, you can truly embrace nature during your off-road adventures.
Whether you prefer cruising with just the sun above or need some fresh air while conquering challenging trails, the Gladiator offers unparalleled versatility for those seeking an exhilarating open-air driving experience.
Towing and Hauling Capability
Need to tow a boat or haul equipment? The 2024 Jeep Gladiator has got you covered. With a best-in-class towing capacity of up to 7,650 pounds and a payload capacity of up to 1,700 pounds, this truck is designed for both work and play.
Its robust frame construction combined with integrated trailer sway control ensures stability when towing heavy loads, making it an ideal choice for outdoor enthusiasts and professionals alike.
Advanced Technology
Inside the cabin of the 2024 Jeep Gladiator, you'll find a host of advanced technology features that enhance your driving experience. From the available Uconnect® infotainment system with a large touchscreen display to smartphone integration and premium audio options, the Gladiator keeps you connected and entertained on the go.
Additionally, safety features like blind-spot monitoring, adaptive cruise control, and forward collision warning provide peace of mind while navigating busy highways or challenging off-road trails.
Versatile Bed Design
The Gladiator's truck bed is not just an afterthought; it's designed with purpose and versatility in mind. With a durable steel construction, adjustable tie-downs, and an available spray-in bed liner, this truck offers practicality for hauling cargo of all shapes and sizes.
Plus, innovative features like the available Trail Rail™ System allow for easy customization and secure attachment of accessories such as bike racks or storage bins.
Read also:
1999 Jeep Cherokee Turbo Kit Definitive Guide on Buying
Driving Experience and Performance of the 2024 Jeep Gladiator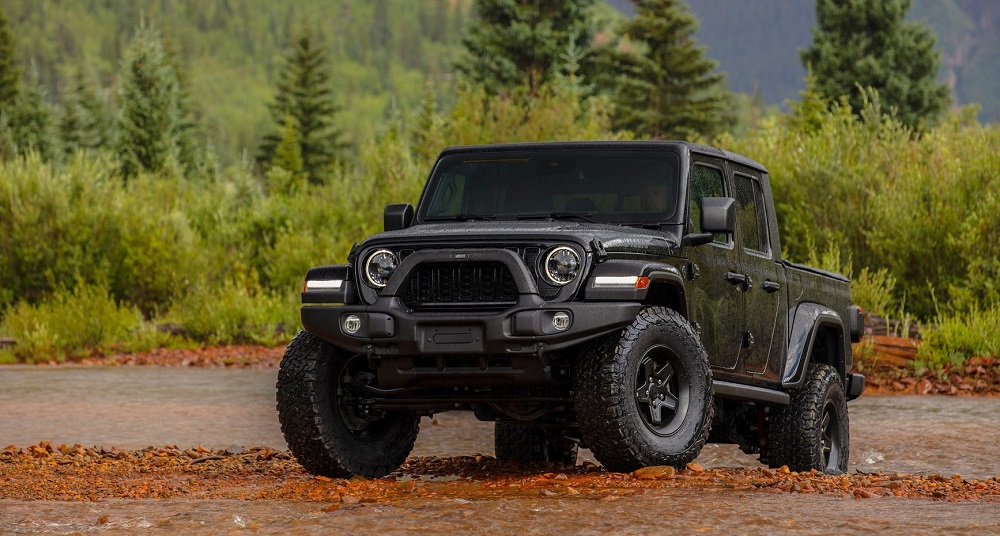 When it comes to the driving experience and performance of the 2024 Jeep Gladiator, you're in for a treat. This rugged vehicle is designed to tackle off-road adventures with ease, while still providing a comfortable ride on pavement.
No matter which engine you choose, you can expect robust acceleration and ample towing capabilities. Plus, features like four-wheel drive systems (including Rock-Trac®), locking differentials, and skid plates enhance its off-road prowess.
While it thrives in challenging terrain, the 2024 Jeep Gladiator doesn't compromise on-road comfort either. Its suspension system strikes a balance between handling capability and ride quality, ensuring smooth travels both on highways and city streets.
Furthermore, Jeep values your safety, and the 2024 Gladiator comes equipped with a host of advanced safety features. From available blind-spot monitoring to forward collision warning, adaptive cruise control, and rear park assist systems, you can feel confident and secure behind the wheel.
Interior Comfort and Technology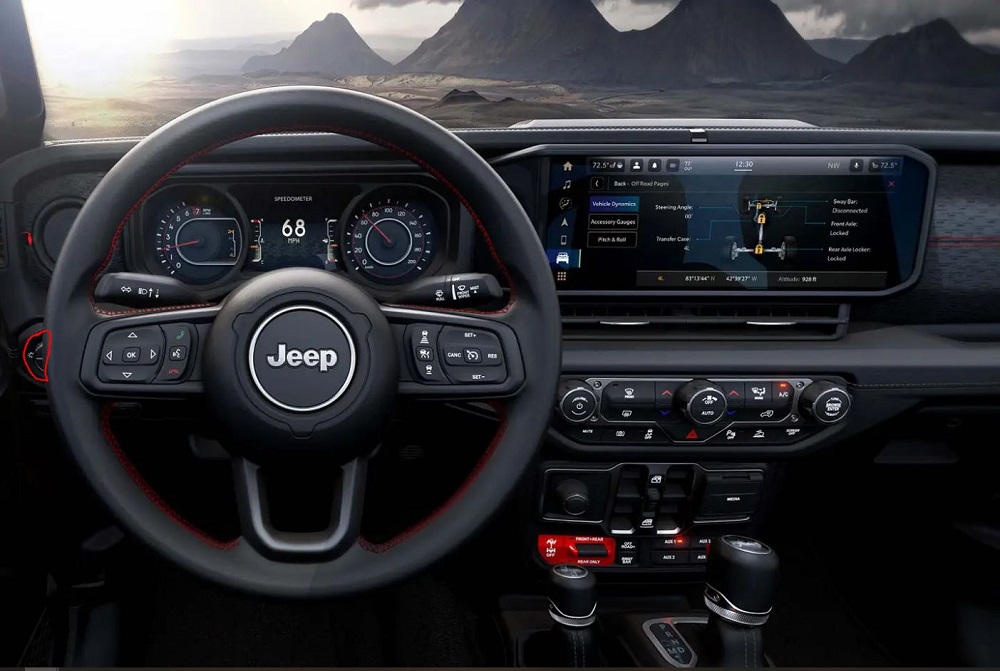 Step inside the 2024 Jeep Gladiator, and you'll be greeted by a spacious cabin that can comfortably accommodate both driver and passengers. The high-quality materials used throughout the interior add an air of sophistication while ensuring durability for off-road adventures.
The 2024 Jeep Gladiator features an advanced infotainment system that keeps you connected and entertained on the go. The intuitive touchscreen display and voice command capabilities provides easy access to control various functions without taking your eyes off the road.
Jeep has equipped the 2024 Gladiator with an array of driver-assistance technologies to enhance safety and convenience. From blind-spot monitoring, rear cross-path detection, adaptive cruise control forward collision warning with automatic emergency braking that adds an extra layer of protection.
Additionally, as an adventurous pickup truck, the 2024 Jeep Gladiator understands your need for versatile storage solutions. It offers clever compartments like under-seat storage bins, lockable glove boxes, and removable rear seat cushions that reveal additional hidden storage space within the cabin.
Off-Roading Capabilities of the 2024 Jeep Gladiator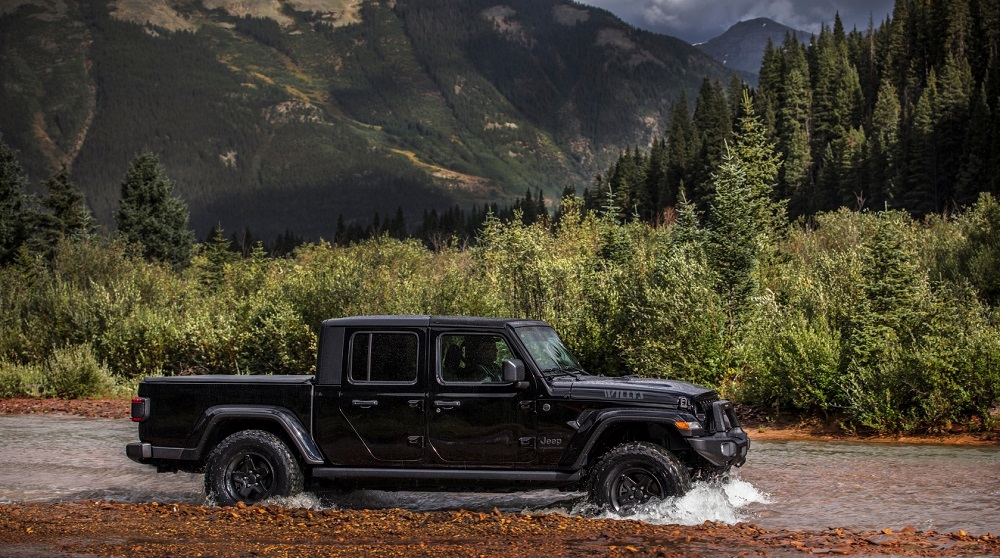 When it comes to off-roading, the 2024 Jeep Gladiator doesn't disappoint. Its rugged design and powerful performance make it a top choice for adventure seekers and off-road enthusiasts.
Let's dive into the impressive capabilities that set this vehicle apart.
1. Impressive Ground Clearance: The 2024 Jeep Gladiator boasts an exceptional ground clearance, allowing you to tackle rough terrains with ease. Whether you're navigating rocky trails or crossing uneven landscapes, this vehicle's high clearance ensures that you won't have to worry about scraping or damaging the undercarriage.
2. Advanced Four-Wheel Drive System: Equipped with a robust four-wheel drive system, the 2024 Jeep Gladiator delivers outstanding traction and control in challenging off-road conditions. This system allows power to be distributed evenly to all four wheels, maximizing grip on slippery surfaces and steep inclines.
3. Off-Road Suspension: Built for rugged adventures, the 2024 Jeep Gladiator features specially tuned suspension components designed to handle even the most demanding off-road terrain. With excellent articulation and wheel travel, this truck can effortlessly navigate over boulders, through deep ruts, and across uneven surfaces without compromising comfort or stability.
4. Water Fording Capability: No need to fear those water crossings anymore! The 2024 Jeep Gladiator is engineered with a high air intake positioned strategically near the roofline, enabling it to wade through shallow streams and traverse watery obstacles without risking damage to its vital components.
5. Off-Road Assist Features: To enhance your off-roading experience further, the 2024 Jeep Gladiator comes equipped with an array of advanced assist features such as hill descent control, electronic locking differentials, and sway bar disconnect systems. These technologies provide added confidence when tackling steep descents, challenging obstacles, and uneven terrains.
Trim Levels and Options for the 2024 Jeep Gladiator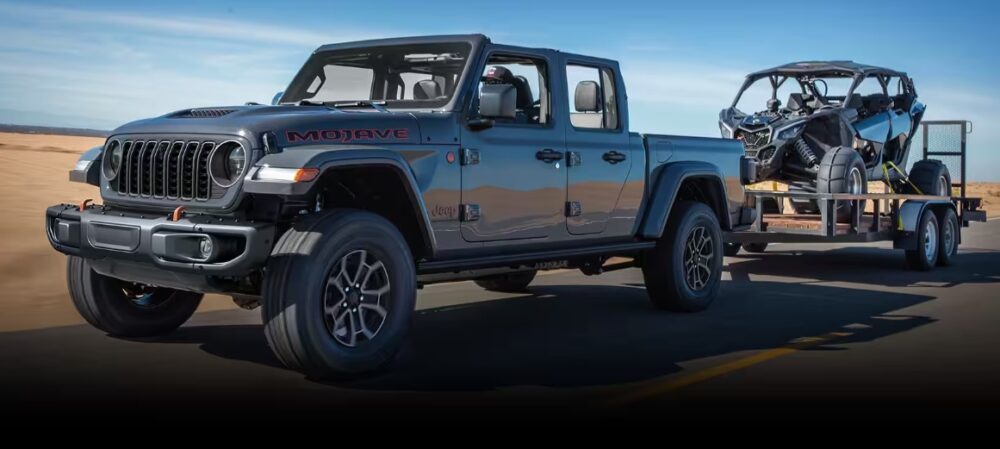 When it comes to choosing the perfect trim level and options for your 2024 Jeep Gladiator, you'll be pleased to know that there are several impressive choices available. Each trim level offers its own unique set of features and capabilities, allowing you to customize your Gladiator to fit your specific needs and preferences.
Let's take a closer look at what each trim has to offer.
Sport
The base-level Sport trim is anything but basic. It comes equipped with essential features such as a 5-inch touchscreen display, Bluetooth connectivity, and a rearview camera.
With this trim, you'll also enjoy convenient amenities like removable doors and a soft top roof option, perfect for those open-air adventures.
Willys Sport
If you're looking for enhanced off-road capabilities, the Willys Sport trim is worth considering. It includes all the features of the Sport trim but adds heavy-duty shocks, rock rails, all-weather floor mats, and aggressive 32-inch mud-terrain tires for tackling rough terrains with ease.
Overland
Stepping up to the Overland trim provides a more refined experience without compromising on capability. You'll find upgrades like an 8.4-inch touchscreen display with Apple CarPlay and Android Auto integration, dual-zone automatic climate control, leather upholstery, and heated front seats – making every journey comfortable and connected.
Rubicon
For those seeking ultimate off-road prowess in their Gladiator, the Rubicon trim is hard to beat. Building upon the Overland's features, it adds heavy-duty Dana® 44 front and rear axles with electronic locking differentials for improved traction on challenging terrains.
With front sway bar disconnect functionality and specialized off-road tires, conquering rugged trails becomes second nature.
Mojave
Designed specifically for high-speed desert running enthusiasts, the Mojave stands out from the rest. It boasts reinforced suspension components, FOX hydraulic jounce bumpers, and a performance hood to optimize airflow.
With its unique desert-rated exterior accents and interior styling cues, the Mojave is ready to tackle any sandy adventure with confidence.
In Conclusion: Is the 2024 Jeep Gladiator Worth It?
The 2024 Jeep Gladiator is a capable and rugged vehicle that offers a unique blend of off-road prowess and truck utility. After examining its features and performance, you may find yourself wondering if it's worth the investment.
Ultimately, whether the 2024 Jeep Gladiator is worth it depends on your individual needs and preferences. If you prioritize rugged off-road capability, truck utility, and the iconic Jeep brand, then this vehicle could be an excellent choice.
However, if fuel efficiency or a lower price point are your primary considerations, you may want to explore other options in the market.
Make sure to test-drive the Gladiator and assess its features firsthand before making a final decision. This will allow you to evaluate how well it aligns with your lifestyle and requirements. Happy exploring!
More about Jeep Gladiator on Trucksbrands.com:
Willys Jeeps For Sale On Craigslist, The Iconic Off-Road Vehicles.
1995 Jeep Wrangler For Sale Craigslist-Buyer's Guide