When it comes to choosing a new pickup truck, Ford offers an impressive lineup that caters to various needs and preferences. Among their popular options, the 2024 Ford F150 models are the most expected.
The Ford F-150 has long been considered a staple in the full-size truck category, known for its ruggedness and versatility. With its powerful engine options and spacious interior, it's hard to ignore the appeal of this mighty machine.
The 2024 Ford F150 boasts large engines with high horsepower rating, making it ideal for heavy-duty tasks such as towing large trailers or hauling heavy loads. Whether you prioritize raw power or nimble maneuverability, there's a Ford truck that can meet your demands.
In this article, we'll helping you make an informed decision when it's time to choose your next truck.
Related: Ford – the True Pride of American Manufacturing
Stay tuned as we dive deeper into the specifics of these two models – from their design features to technology offerings – so you can determine which one suits your needs best.
2024 Ford F150 Performance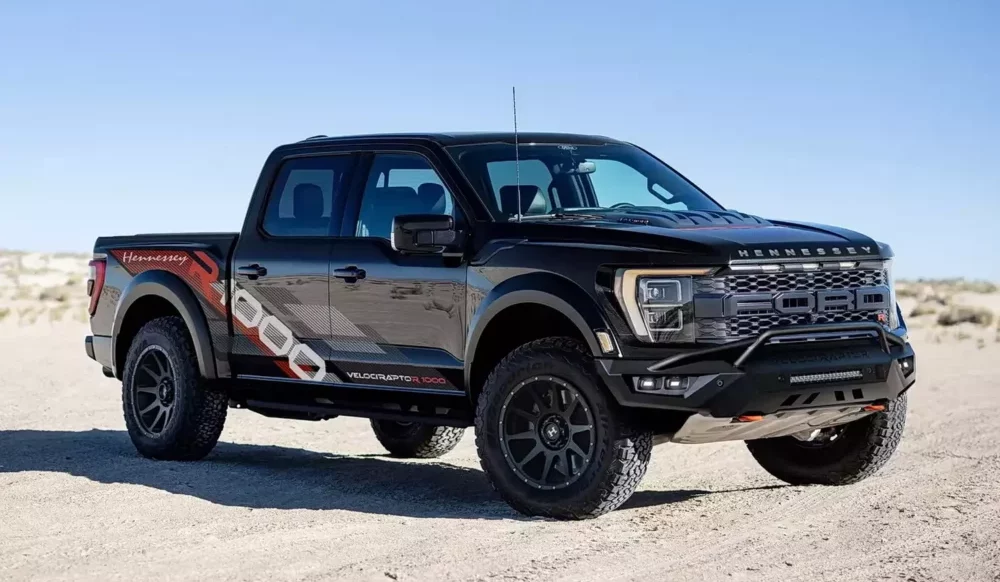 When it comes to performance, the Ford F150 is known for its impressive power. With multiple engine options, 2024 Ford F150 offers a range of horsepower and torque levels to suit different needs.
Related: Grand Highlander – The Powerful and Stylish SUV from Toyota
Engines and Power Option
The Ford F150 is known for its impressive power from multiple engine options. It offers a range of horsepower and torque levels to suit different needs.
| Engine Type | Horsepower | Torque |
| --- | --- | --- |
| 3.3-liter naturally aspirated V-6 | 290 HP | 265 pound-feet |
| 2.7-liter twin-turbo V-6 | 325 HP | 400 pound-feet |
| 5.0-liter naturally aspirated V-8 (Coyote) | 400 HP | 410 pound-feet |
| 3.5-liter twin-turbo V-6 | 400 HP | 500 pound-feet |
| 3.5-liter twin-turbo V-6 (Raptor) | 450 HP | 510 pound-feet |
| 3.5-liter twin-turbo V-6 hybrid | 430 HP | 570 pound-feet |
| 5.2-liter supercharged V-8 | 700 HP | 640 pound-feet |
2024 Ford F150 Towing and Payload Capacity
If towing capability and payload capacity are high on your priority list, the 2024 Ford F150 has the advantage here. Thanks to its robust frame and powerful engines, it can tow heavy load anywhere from 7,500 pound to an impressive 13,200 pounds.
The Ford F-150 shines in payload capacity as well. Its payload capacity varies based on factors such as engine choice and drivetrain configuration but can reach up to an impressive 3,270 pounds when properly equipped.
2024 Ford F150 Fuel Efficiency
Although the new F150 excels in power and towing capacity, it still manages respectable fuel economy numbers considering its capabilities. The range varies depending on the engine and configuration, but you can expect an EPA-estimated combined fuel economy ranging from 17-24 mpg.
Here is the comparison number of MPG between Ford F150 and Ranger:
| | Ford F-150 | Ford Ranger |
| --- | --- | --- |
| Average MPG (City) | 17-23 | 19-21 |
| Average MPG (Hwy) | 23-26 | 24-26 |
| Average MPG (Comb) | 20-25 | 21-26 |
*Fuel economy numbers are for reference only and may vary based on driving conditions, vehicle configuration, and other factors.
Read also: Chevy Colorado vs GMC Canyon: Which One is the Better?
Design and Features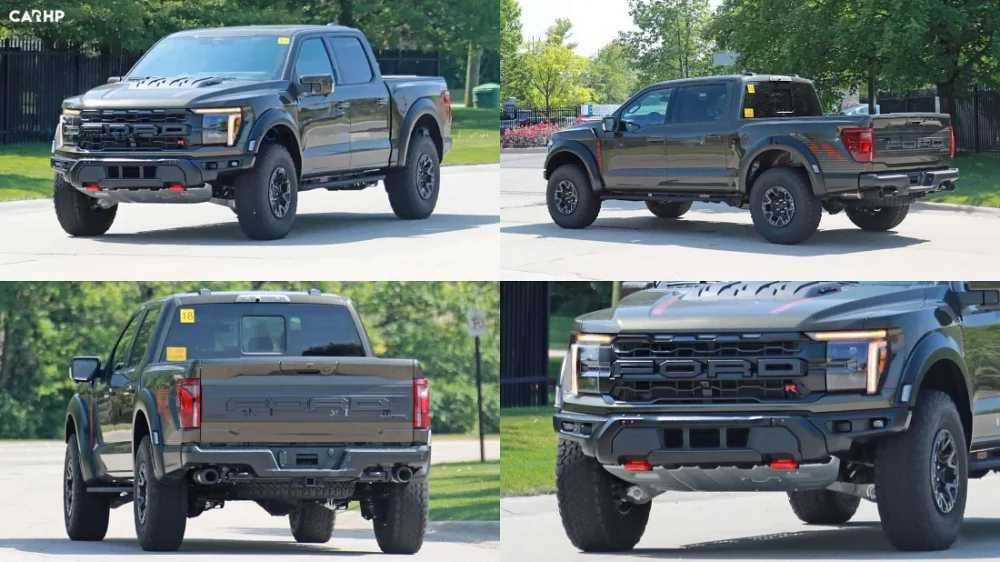 Exterior Design of the 2024 Ford F150 boasts a bold, muscular exterior design that exudes strength and dominance on the road. Its larger size gives it a commanding presence, making it ideal for those who require a powerful truck for towing or hauling heavy loads.
While the inside, you'll find well-designed cabins with comfortable seating options. The 2024 Ford F150 offers spaciousness that can accommodate more passengers. The vehicles come equipped with modern amenities such as touchscreen infotainment systems, Bluetooth connectivity, and USB ports for convenience.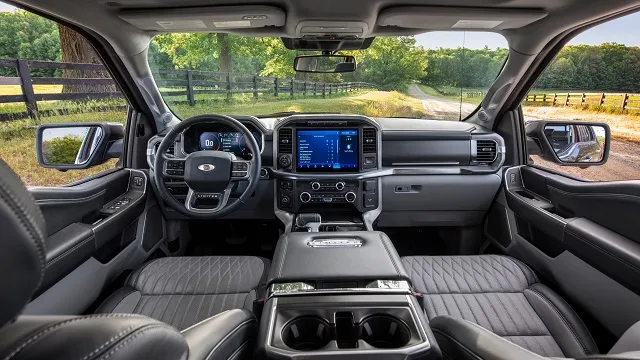 Read also: The Best Dash Cam for Semi Trucks: Enhancing Safety and Security on the Road
In terms of technology features, the F150 incorporate advanced systems to enhance safety and connectivity. It offers an available 12-inch digital instrument cluster display that provides clear information at a glance.
It also includes features like adaptive cruise control, blind-spot monitoring, and automatic emergency braking.
Off-Road Capability of 2024 Ford F150
When it comes to off-road capability, the Ford F150 offer impressive performance and features. Whether you're looking to tackle rugged terrains or navigate through challenging obstacles, the pickup trucks are designed to deliver a reliable and thrilling off-road experience.
1. Suspension and Ground Clearance
The suspension system plays a crucial role in providing stability and comfort during off-road adventures. The Ford F150 boasts a robust suspension setup that effectively absorbs shocks and bumps, allowing for smooth rides even on rough terrain.
With its high ground clearance (9.3-11.5 inches), the F150 offers better approach angles, departure angles, and breakover angles. These are the key factors that determine how well a truck can handle uneven surfaces.
2. Four-Wheel Drive (4WD) Systems
As its predecessor, 2024 Ford F150 come equipped with advanced four-wheel drive systems. That system will enhance traction and control on slippery or uneven surfaces.
The F150 offers various options including the available electronic shift-on-the-fly system. This allows you to switch between two-wheel drive and four-wheel drive modes seamlessly while driving at low speeds.
3. Skid Plates and Protective Features
Off-roading can expose your vehicle to potential damage from rocks, branches, or other obstacles encountered along the way. Fortunately, the F150 come equipped with skid plates that provide additional protection for vital components like the engine oil pan or transfer case.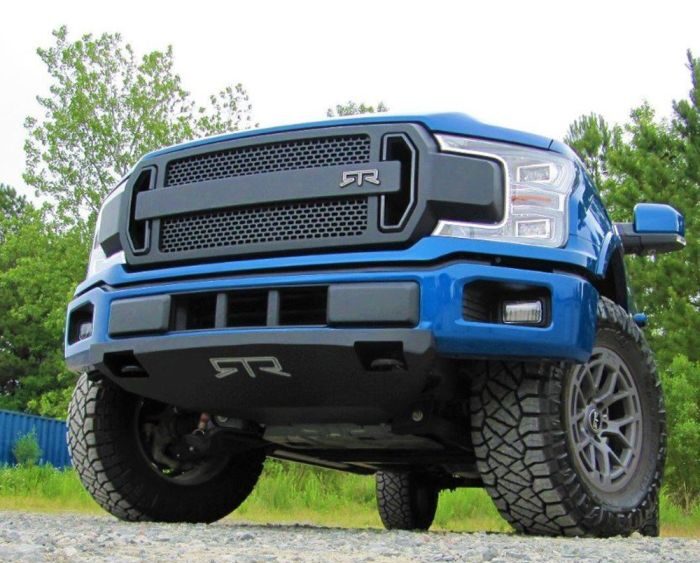 Additionally, the trucks offer optional protective features such as off-road tires, front tow hooks, and electronic locking rear differentials. These features further enhance the trucks' ability to handle challenging off-road situations.
4. Off-Road Packages
For those seeking even more capability, Ford offers optional off-road packages for the 2024 Ford F150. It includes the FX4 Off-Road Package, which features an upgraded suspension system, all-terrain tires, skid plates, and hill descent control.
With the impressive off-road capabilities and advanced features, the Ford F150 is well-equipped to conquer challenging terrains with confidence.
Trim Levels and Cab Style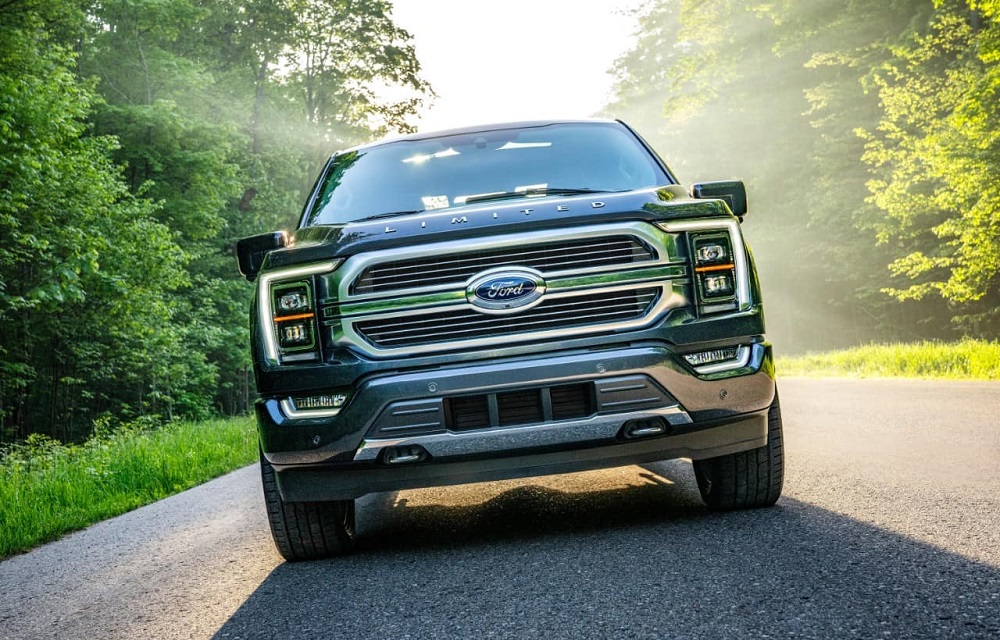 The 2024 model of Ford F150 is offered in six primary trim levels:
XL
 XLT
Lariat
King Ranch
Platinum
Limited.
There are also the off-road-oriented models that exist outside the traditional lineup, they are Tremor, Raptor and Raptor R. And when it come to the cab style, the 2024 F150 has three cab styles with different bed length: Regular, SuperCab (extended) and SuperCrew (crew cab).
Along with the many trim levels and cab styles, the 2024 Ford F-150 offers seven available powertrains. All are paired to a 10-speed automatic transmission with either rear- or four-wheel drive except the Limited, Tremor, Raptor and Raptor R, which are 4WD-only.
2024 Ford F150 Release Date
The new 2024 Ford F150 is expected to be the next generation for the F-150. And most likely Ford will release at the end of 2023 for the 2024 model year.
Granted, Ford hasn't officially released any information about the new Ford F-150 for the 2024 model year. But according to media reports, it looks likely to be arriving at the end of 2023 for the next-gen Ford F150.
2024 Ford F-150 Price Estimate
Ford Motors has introduced the 2023 Ford F-150 in a total of eight trims priced in all trims from $34,000 to $75,000. So the price estimate for the next generation Ford F150 may be a bit high.
And here's the estimated price of the 2024 Ford F150 in reference to the current 2023 model:
 XL Trims – Price (Est.) $36,000
XLT Trims – Price (Est.) $42,500
Lariat Trims – Price (Est.) $58,000
King Ranch Trims – Price (Est.) $64,000
Platinum Trims – Price (Est.) $65,000
Limited Trims – Price (Est.) $85,500
Tremor Trims – Price (Est.) $61,500
Raptor Trims – Price (Est.) $77,000
More from Trucksbrands.com:
Silverado 1500 Diesel Towing Capacity: A Comprehensive Guide
Best Truck Driving Schools: 8 Top Options for Your Career